Traeger Timberline 850 Pellet Grill
Starting at the core with a pill-shaped barrel, double-wall stainless steel interior, and airtight lid gasket, the Timberline is built with the structural integrity of Fort Knox. Grill more with the three-tier stainless steel grates, and cook it all 20% faster* thanks to the new TRU Convection® system. Adjust your grill from the couch, or across town, with The Timberline's WiFIRE® controller. It lets you adjust the smoke, set timers and change or hold set temperatures from 165°F to 500°F within +/- 5°F** all from your phone via the Traeger App.
*Based on convection air circulation vs. non-convection indirect flame cooking. **Average variance over an hour-long cook after the grill has achieved initial set temperature. Ambient air temperature 72 degrees F without wind.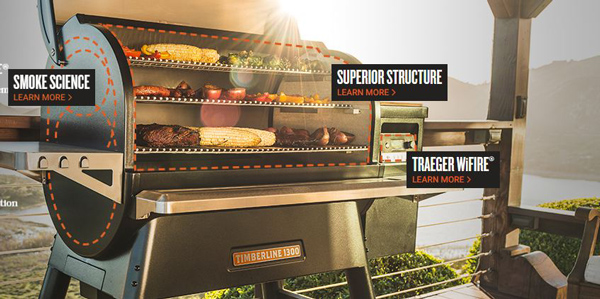 FEATURES OVERVIEW
SMOKE SCIENCE
Super Smoke Mode
TRU Convection® System
Downdraft Exhaust® System
TRAEGER WiFIRE®
Consistent Average Temperature
Custom cook cycles
Mobile grill control
SUPERIOR STRUCTURE
Double-wall, commercial-grade stainless steel interior
Airtight lid gasket
Adjustable 3 tiers of cooking surface
Lower grate can be adjusted from smoke position to sear position
New pill-shaped barrel for added height and space
24 lb. pellet capacity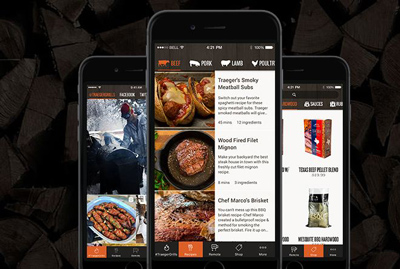 TRAEGER MOBILE APP
YOUR TOOL TO JOIN
THE TRAEGER LIFESTYLE.
Recipes
Community
Find a dealer or shop from the app
Available for all Traeger users (WiFIRE® feature only compatible with Timberline grills)
Specifications
Assembled Dimensions (in)
51"H x 46"W x 28"D
Total Cooking Space (sq in)
869 sq in
Max Temp (F)
500
# of Grill Grates
3
PREMIUM COOKING FEATURES
Keep Warm Mode
Yes
D2 Direct Drive Motor
Yes
Traeger Downdraft Exhaust System
Yes
Super Smoke Mode
Yes
Extra Insulation
Fully insulated construction
DIGITALLY-CONNECTED FEATURES
Wired Thermometers
Yes
Traeger Pellet Sensor
Yes
WiFire
Yes
Specifications
Hopper Capacity
24 lb