Traeger Timberline 1300 Pellet Grill
Wood-fired perfection, 30 years in the making. Achieve competition-worthy smoke rings with features like Super Smoke mode, and do it all 20% faster* thanks to the TRU Convection® system. The Timberline offers unmatched precision grilling, maintaining +/- 5°F** temperature control whether you're grilling low and slow at 165°F or hot and fast at 500°F. Grill on-the-go with the Timberline's WiFIRE® controller, by changing temperatures, setting timers, and accessing our recipe arsenal all from your phone via the Traeger App.
*Based on convection air circulation vs. non-convection indirect flame cooking.
**Average variance over an hour-long cook after the grill has achieved initial set temperature. Ambient air temperature 72 degrees F without wind.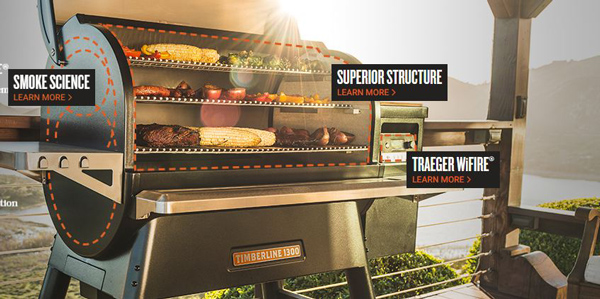 FEATURES OVERVIEW
SMOKE SCIENCE
Super Smoke Mode
TRU Convection® System
Downdraft Exhaust® System
TRAEGER WiFIRE®
Consistent Average Temperature
Custom cook cycles
Mobile grill control
SUPERIOR STRUCTURE
Double-wall, commercial-grade stainless steel interior
Airtight lid gasket
Adjustable 3 tiers of cooking surface
Lower grate can be adjusted from smoke position to sear position
New pill-shaped barrel for added height and space
24 lb. pellet capacity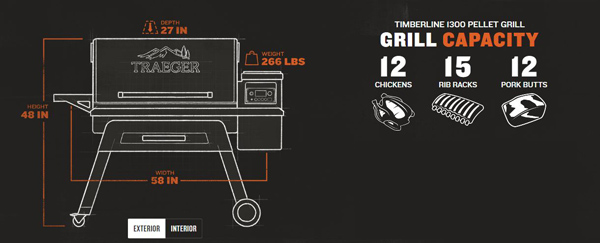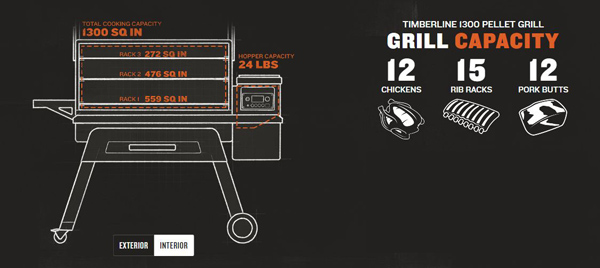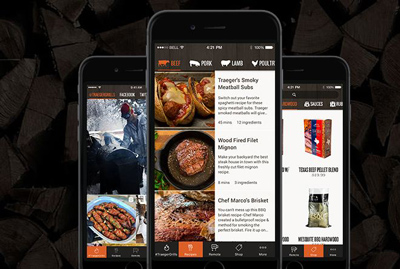 TRAEGER MOBILE APP
YOUR TOOL TO JOIN
THE TRAEGER LIFESTYLE.
Recipes
Community
Find a dealer or shop from the app
Available for all Traeger users (WiFIRE® feature only compatible with Timberline grills)
Specifications
# of Grill Grates
3
Assembled Dimensions (in)
51"H x 58"W x 28"D
Total Cooking Space (sq in)
1343 sq in
Max Temp (F)
500
PREMIUM COOKING FEATURES
Keep Warm Mode
Yes
D2 Direct Drive Motor
Yes
Traeger Downdraft Exhaust System
Yes
Super Smoke Mode
Yes
Extra Insulation
Fully insulated construction
DIGITALLY-CONNECTED FEATURES
Wired Thermometers
Yes
Traeger Pellet Sensor
Yes
WiFire
Yes
Specifications
Hopper Capacity
24 lb